Yoga Classes and Workshops in Fitzroy, Melbourne
Regular Yoga Classes
Nina facilitates regular yoga classes and workshops in Fitzroy.
Tuesdays 10-12pm General level yoga, Dance of Life
Tuesdays 5.30-6.30pm Hatha Flow, Gertrude St Yoga 
Thursdays 6.30-8.30am General level yoga, Dance of Life 
Thursdays 9.30-11am Vinyasa, Gertrude St Yoga 
Thursdays 5.30-7.15pm General level yoga, Dance of Life
She also irregularly can be found at Gertrude St Yoga in Fitzroy. 
Regular Yoga Workshops
At least once a month, Nina runs a longer workshop on a topic suggested by you. These workshops are usually on a Saturday afternoon and go for 2.5-3hrs. 
For detailed information on past workshops, check the Blog Section, for upcoming workshops and a list of previous ones, look up the workshop section. You are also welcome to join the Yoga Workshops group on Facebook, where you are able to connect with other workshop members and share ideas and experiences.
Next workshop:
Saturday Feb 3rd: Extensions – Freeing and Controlling the Spine
Find control, and ultimately freedom, for the spine to extend safely and without regrets.
How to approach extensions and the fear that comes with going into the back body? Especially if the final game is a back'drop'?
Be prepared to have fun, hand yourself over to another person, find trust and voice!
Contact Nina for details, to register and pay.
Time: 1.15pm
Location: Dance of Life, Fitzroy
All practitioners, all experiences welcome
Feel free to join the Facebook event.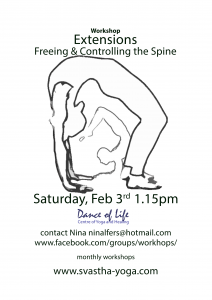 Nina comes from a background of martial arts and massage therapy. Her instruction style combines insights from these areas and focuses on balancing strength and intention with flexibility and growth in self awareness. The aim is enhanced alertness and appreciation of both of your body and mind. Her classes are versatile and detailed, enabling you to explore postures deeply and get to know better your body's needs and abilities. In this way, you become self-aware, strong and mindful – great conditions for a healthier life.